Wholesale Christmas Trees in Los Angeles, CA
Wholesale Christmas Trees in Los Angeles, CA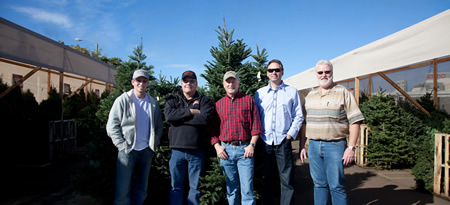 Holiday Tree Farms has been bringing the real Christmas tree tradition to millions for over fifty years. Established in 1955, Holiday Tree Farms is proud to serve Los Angeles and the southern California area directly and through our wholesale Christmas tree lot in Los Angeles, CA. California Christmas tree lots can expect to receive the highest quality premium Christmas tree with unmatched service and timely deliveries.

Holiday trees are sustainably grown in Oregon's Willamette Valley where Holiday Tree Farms is independently certified by The Coalition of Environmentally Conscious Growers. We have over 8,500 acres of Christmas trees and deliver over a million Christmas trees annually in the United States and parts of the world.

Our expertise dealing in perishable products with delivery deadlines is unequaled. Similarly, our product quality is consistent and of the highest quality.

Our wholesale Christmas tree lot in Los Angeles, CA receives our fresh Oregon Christmas trees daily via semi truck or rail during the season. Whether your order is shipped directly to your location(s) or you would like to schedule multiple pick-ups throughout the season from our wholesale Christmas tree lot, you will be receiving the freshest Christmas trees we have to offer.

Choose from Douglas Fir, Noble Fir, Grand Fir, Nordmann Fir or Scotch Pine, we have have standard sizes from 2 feet ( table top ) up to 12 feet tall. Or, if you are in need of larger sizes, we have plenty of Big Christmas Trees available. Mix and match your order as needed and we can deliver a steady supply of premium trees directly to you. Remember to add our quality wholesale wreaths, boughs and door charms to round out your order.

Holiday's Los Angeles wholesale Christmas tree location allows us to easily distribute fresh-cut wholesale Christmas trees in Los Angeles and throughout Southern California. Call or visit us with your order and you can pick them up today!
Christmas Tree Wholesale Lot Information
Holiday Tree Farms
Wholesale Christmas Trees, Wreaths and Greens

8717 Pioneer Blvd
Santa Fe Springs, CA 90670

Sales: (800) 289-3684

Local Phone: (323) 276-1900


Call us today, join the Holiday family and let us deliver fresh premium Christmas trees.