Wholesale Christmas Trees
Holiday Tree Farms—Wholesale Christmas Trees in Oregon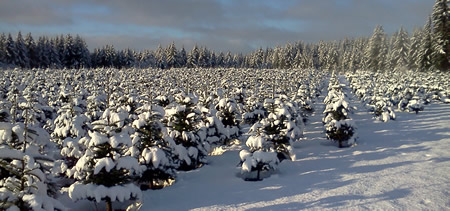 Oregon supplies more wholesale Christmas trees than anywhere else in the world and Holiday Tree Farms is the largest wholesale Christmas tree supplier in Oregon, delivering over 1 million real wholesale Christmas trees annually all over the United States, and several parts of the world. Our wholesale Christmas tree farms have over 8,500 acres of Christmas trees and we were pioneers in the Christmas tree industry creating the sheared, conical Oregon Douglas fir Christmas tree that we all see today.
Holiday has been bringing the real Christmas tree tradition to millions for over fifty years. Holiday's promise is to provide the highest quality, freshest, real wholesale Christmas trees available anywhere in the world. We understand the need to focus on selling trees. That's why it doesn't matter if your order is for 200, 2,000 or 100,000, we process each tree individually with care. We take pride in providing the highest quality, fresh Christmas trees delivered direct to you.
We are a family run business established in 1955 with a strong ethical code and an environmental conscience approach to plantation Christmas tree farming. We believe in taking care of our own—our family, our land, our dedicated employees and contractors and our customers. Over 10% of our well trained and loyal employee workforce has been with us more than 15 years. Additionally, many of our valued customers have been with us for the last 57 years.
Our wholesale Christmas tree farm produces Douglas Fir, Noble Fir, Grand Fir, and Nordmann Fir, we have have standard sizes from 2 feet (table top) up to 9 feet tall. Mix and match your order as needed and we can deliver a steady supply of premium trees directly to you. Remember to add our quality wholesale wreaths, boughs and door charms to round out your order.
For the Southern California market, we maintain a Christmas tree wholesale lot during the season where deliveries can be scheduled and you can supliment your inventory.
Find out more about our Real Christmas Trees from Oregon, Christmas Tree Harvest, Sustainable Real Christmas Trees, Christmas Tree Transportation, Christmas Tree Quality and Freshness.
Call us today, join the Holiday family and let us deliver your fresh premium Christmas trees.