Christmas Tree Transportation
Wholesale Christmas Tree Transportation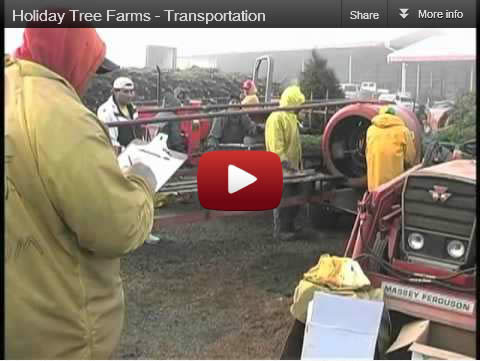 During harvest, Holiday Tree Farms operates 12 processing yards and employs over 600 people in order to ship over 1 million Wholesale Christmas trees worldwide each year. Our experienced transportation staff works hard to ensure your product arrives fresh and on time.
We have one of the most advanced Christmas tree harvesting and distribution operations in the world and, for you, that translates to reliability and peace of mind with regard to having a premium product when you need it.
Holiday ships utilizing Ocean, Over the Road, and Rail. All of our carriers are carefully screened to ensure reliability and safety. We routinely deliver shipments of mixed products to sequential locations, reducing the burden of inventory management for our customers. Similarly, Holiday maintains service centers in suburban locations to increase the sales efficiency of our customers.
Holiday's Christmas Tree Logistics
All trees are graded, sorted and tagged by species and size
Shakers are used to remove excess needles
Each tree is single wrap twine baled
Palletizing service is available for certain volume buyers
Refrigerated trailers for certain warm climate shipments
Online monitoring of shipments
GPS tracking
Our Transportation department is available year round to assist you.