Sustainable Christmas Trees
Sustainable Wholesale Real Christmas Trees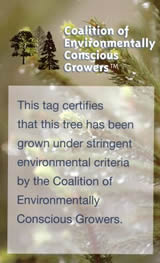 Our farm operations are sustainable and we always practice good stewardship toward natural resources and wildlife. Holiday is certified by The Coalition of Environmentally Conscious Growers. This certification recognizes that Holiday is an environmentally conscience operation, adhering to strict guidelines and independent inspection.
This certification allows Holiday Tree Farms to place special tree tags on every tree—this helps consumers identify trees grown under certain environmental standards.
The inspections are done by an independent auditing firm and require that farms meet or exceed requirements of Riparian/Wetland Management, Soil and Water Conservation, Nutrient Management, Site Selection, Pest Management, Worker Health and Hygiene and Biodeversity.
Offer your customers an environmentally friendly Christmas tree this year.